The Two-Minute Man, Episode 14: Let Me Go On Edition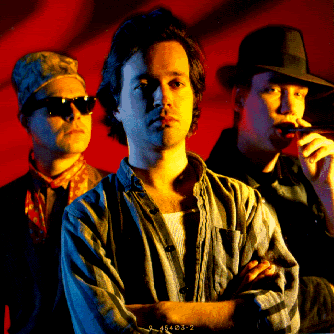 An average week of Globe listening, with male domination back in full force. The Violent Femmes and the Cars are welcome additions to the list of artists, but the Stones and Green Day (and, to a certain extent, R.E.M.) selections featured this week leave much to be desired.
1. "Blister in the Sun" - Violent Femmes
An American classic. Sort of like Wendy's chili. Still, no amount of selling out can dampen the song's catchy, jittery excitement.
2. "Let's Go" - The Cars
The Cars are sort of like the new-wave Tom Petty. Maybe you'll never really make it through an entire album, but they have enough fantastic singles to make them the ideal radio band.
3. "The One I Love" - R.E.M.
One of the most hilariously misinterpreted songs of all time. It's always funny to see newlyweds stare lovingly into each other's eyes as they dance to this song, as the lyric "a simple prop to occupy my time" comes out of the speakers.
4. "27 Jennifers" - Mike Doughty
The former Soul Coughing frontman doesn't do his stream-of-consciousness scatting thing on this new single, but it's a pleasant enough three-minute pop single and always nice to hear a new(ish) voice on the air.

5. "It's Only Rock 'N Roll (But I Like It)" - The Rolling Stones
I only kinda like it.
6. "Tempted" - Squeeze
I think I'll have to throw Squeeze in there with Blondie for "bands I realized I just don't like all that much after a few months of listening to the Globe."
7. "Good Riddance (Time of Your Life)" - Green Day
As long as there are proms, graduations and "Seinfeld" finales, this song will never go away. Green Day has so many fantastic singles that it's kind of a shame this sappy ballad will go down as their biggest hit. I'd rather hear "She."
8. "If I Had Eyes" - Jack Johnson
I have to admit that I heard this and "Blister in the Sun" back-to-back while I was waiting in line to vote Tuesday, and this was the one that stuck in my head. It's just chilling in there, playing hacky-sack with "No Rain."
9. "I'll Be Waiting" - Lenny Kravitz
Three weeks in a row with Kravitz?! There must be some Globe-sponsored Kravitz concert in the works, as long as he can recover from his bronchitis.
10. "In the Mood" - Robert Plant
I'm still trying to figure out the Globe's strange fixation with Plant's '80s solo material. If they just want to play two Led Zeppelin songs every hour, just do that instead.
-- DAVID MALITZ
By David Malitz | February 15, 2008; 4:41 PM ET Two-Minute Man
Previous: Uh Oh, Uh Oh, Uh Oh, Oh No No | Next: 'Once' Again
Comments
Please email us to report offensive comments.
Posted by: heather | February 16, 2008 3:02 PM
Posted by: Radio Is The Sound Salvation | February 17, 2008 5:56 PM
Posted by: jy | February 18, 2008 10:03 AM
Posted by: Hemisphire | February 19, 2008 1:12 PM
Posted by: EricS | February 19, 2008 2:17 PM
The comments to this entry are closed.