Nick Johnson: 'The Girl Can't Help It'?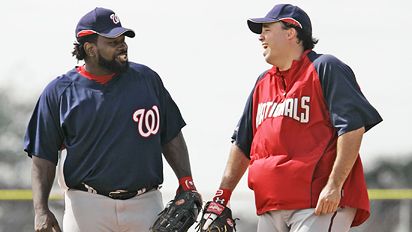 I went to opening night at Nationals Park, and all you got was this lousy story about lousy ballpark music. Well, that, a Ben's Half-Smoke, a $7.50 beer and a walk-off homer.
Because I really needed more Lou Bega and KC and the Sunshine Band in my life (and, also, because I find the "sumptuous swath of green" of the field to be "as satisfying to something primal in ... [my] soul as a field of gazelles is to a lion stalking the savanna"), I've returned to Nationals Park several times since the opener.
Which means I've heard most of the new walk-up music selected by the Nats players.
Christian Cristian Guzman's song of choice, e.g., is 50 Cent's "Disco Inferno," though something like "These Boots Are Made for Walkin'" would have been a much better pick - since, you know, it'd be really ironic, given that Guzman has drawn exactly one walk in 65 plate appearances this season, which is truly wretched for a leadoff guy.
Ryan Zimmerman has been using Lupe Fiasco's "Superstar," though he's hardly been playing like one.
Austin Kearns came up to "Louisiana Saturday Night" on Sunday.
Willie Harris, who has cranked all of seven home runs in his career, is going with Soulja Boy's "Crank That."
Pitcher Tim Redding used Rusted Root's "Send Me On My Way" shortly before Manny Acta sent him on his way after five-plus semi-effective innings.
The most interesting at-bat songs, though, belong to Nick Johnson, who has been using "SexyBack" (he's back! and he's, well ... he's back!) - and also, for some strange reason, Fergie's "Clumsy." Specifically, the part that samples Little Richard's "The Girl Can't Help It."
So as Johnson comes to the plate, this is what you hear: "Can't help it/The girl can't help it." Which is just ... weird.
So what should the Sacramento kid use when he comes to the plate? Having seen the above photo of Mr. "SexyBack" in his spring training muumuu, alongside the not-exactly-svelte Dimitri Young, a friend suggests Heavy D's "Mr. Big Stuff."
By J. Freedom du Lac | April 16, 2008; 12:23 PM ET Ridiculousness
Previous: The Full Festival Lineup! | Next: Live Last Night: The New Pornographers
Comments
Please email us to report offensive comments.
Posted by: Lindemann | April 16, 2008 7:43 PM
Posted by: msto | April 18, 2008 1:58 PM
Posted by: brendalynn | April 23, 2008 7:25 PM
The comments to this entry are closed.