Obama Goes Country: Only In America!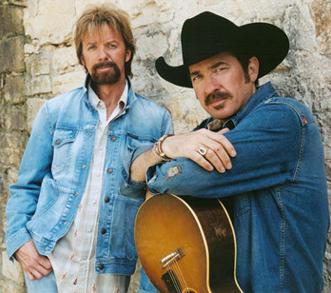 I was curious to know what Brooks & Dunn thought about the use of "Only in America" after Barack Obama's acceptance speech last night.

After all, the country stars have been big supporters of President Bush, even performing at an important Bush rally in Wisconsin on the eve of the 2004 election. The duo also played at Bush's 2001 inauguration and was invited to the sequel in 2005, but decided to sit it out. ("We gave at the office this year," Ronnie Dunn said at the time.)
Well, Kix Brooks just sent a statement to The Post via the duo's publicist. He didn't criticize Obama, but he didn't exactly embrace the idea of the Democratic nominee using the 2001 hit, either.
"Seems ironic that the same song Bush used at The Republican Convention last election would be used by Obama and the Democrats now," Brooks said. "Very flattering to know our song crossed parties and potentially inspires all Americans."
By J. Freedom du Lac | August 29, 2008; 11:47 AM ET Politics
Previous: The CNN Graphic I'm Still Waiting To See | Next: Spotted: 'Gossip Girl' Dissing Jack Johnson
Comments
Please email us to report offensive comments.
Posted by: EricS | August 29, 2008 1:40 PM
Posted by: votetheday.com | September 2, 2008 4:58 PM
Posted by: votetheday.com | September 2, 2008 4:59 PM
The comments to this entry are closed.