Live Last Night*: Drive-By Truckers (* Two Nights, Two Reviews!)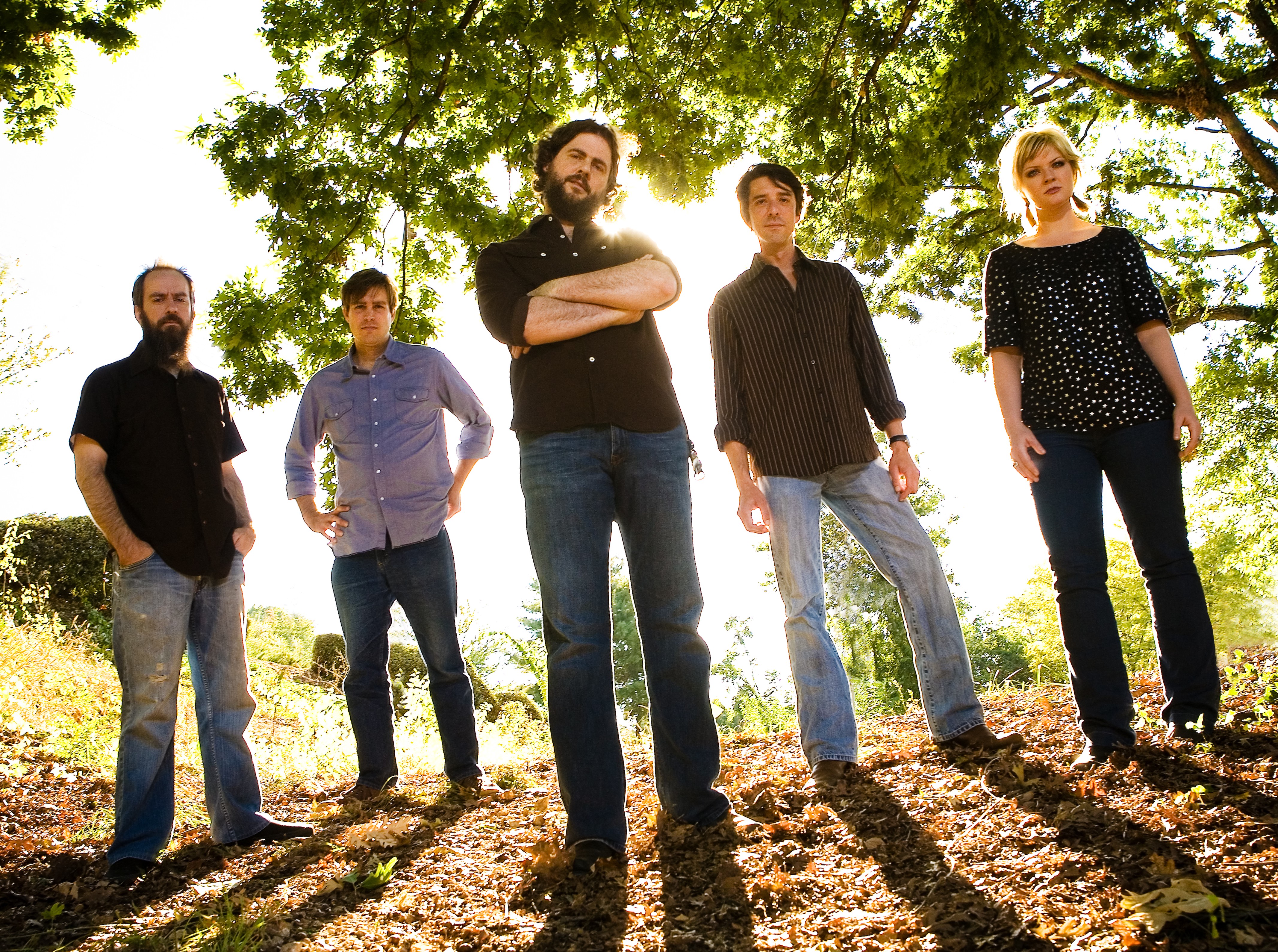 Status ain't Patterson Hood: The frontman for the DBTs (he's the scruffy guy in the middle) was a DNP at the band's two 9:30 club concerts.
"Just 'cause I don't run my mouth don't mean I got nothin' to say," goes the line in the Drive-By Truckers song, "Marry Me." It's one of the grizzled Alabama-by-way-of-Athens, Ga., outfit's many superb numbers written and sung by second-banana frontman Mike Cooley, usually the laconic sideman to garrulous group leader Patterson Hood.
Cooley probably ran his mouth more at the Truckers' 9:30 club gig Friday night than in his prior 20 years onstage: Hood was stricken with walking pneumonia, unable to perform, forcing Cooley into the mix as starting quarterback. The club had posted notice offering refunds to those unwilling to see DBT-minus-one.
But most were game, and the Truckers rewarded their faith with a sloppy but triumphant 21-song set, rich in the sort of Cooley slow-burners ("Cottonseed," "Pin Hits the Shell") that often get passed over in the whiskey-and-amphetamines crunch of full-strength DBT shows, and also in seminal rarities ("One of These Days," "Panties in Your Purse").
(Read the rest of the Friday review -- plus the complete review of Saturday's show -- after the jump.)

The Truckers have long been blessed with excess when it comes to ace songcraft. After third-banana frontman Jason Isbell left two years ago, his ex-wife, DBT bassist Shonna Tucker, revealed herself as a singer/songwriter of no mean gift, contributing three topnotch tunes to 2008's "Brighter Than Creation's Dark." She sang them all Friday, recalling Loretta Lynn in her prime.
But the night clearly belonged to Cooley. Though less prolific than Hood, he's pound-for-pound the better songwriter, and not just because all the most deliciously quotable lines in the group's deep catalogue are his. Exhibit 794: "She woke up sunny side-down, and I was still thinking I was too proud to flip her over," from "Gravity's Gone."
Taking frequent pulls from the fifth of Jack Daniels making the rounds onstage, Cooley appeared to relish his rare turn in the spotlight, soliciting requests -- and lyrical aid, when he got lost in the middle of "Bob," one of his wry character studies. "Oh yeah, it's a country song!" he laughed, after an audience member gave him the cue, "Mama."
That neither Cooley nor Tucker attempted one of Hood's songs was a little disappointing, but that this band can still deliver absent its key performer shouldn't surprise anyone: Even city slickers know that a wounded animal is the most dangerous kind.
-- CHRIS KLIMEK
The Geneva Conventions of Southern rock, or whatever road warrior creed the fabulous Drive-By Truckers adhere to, hold that the show must go on. But who says the show must go on for more than two hours?
Doctors told Patterson Hood, the soul of the Truckers, that he had walking pneumonia heading into the weekend. That's apparently a more daunting diagnosis than rockin' pneumonia and the boogie woogie blues, because Hood's ailment kept him away from his Alabama-spawned band's double date at the 930 club.
Ticketholders were offered refunds, but from the overstuffed look of the balcony and floors of the club for Saturday's closing show, few took the buyouts. Mike Cooley assumed Hood's normal role as emcee/bandleader, and tried to deliver to fans the same sort of gig they'd get with all hands on deck.
The effort and even the sound were there, and Cooley coaxed some great moments out of his band, touring as a six-piece. The Truckers opened with Cooley's "Zip City," as good a tale of dysfunctional adolescent romance (if that ain't a redundancy) as has ever been rocked. "You're only 15, girl!" Cooley and the fans screamed together.
And the club shook as Cooley shredded on his off-brand guitar during several of his Rolling Stones-y rockers, including "Guitar Man Upstairs" and "Marry Me." Tunes such as "Uncle Frank" and Carl Perkins' "Cadillac" confirmed his mastery of the story-song.
But what was missing from the performance dominated what wasn't.
Without Hood around, the Truckers missed Jason Isbell more than ever. Isbell, during his years with the band alongside Hood and Cooley, was part of a Southern rock songwriters version of Murderers Row. But Isbell was kicked out or otherwise left in 2007, when his marriage to Truckers' bassist Shonna Tucker broke up, and she got the band in the divorce.
For fans, that's hardly a fair settlement. Tucker tried stepping up her game without Hood around, singing all three songs she's contributed to Truckers CDs since Isbell left. But while she flaunts a smooth, Patsy Cline-like croon in a studio, in a live setting her vocals were feeble to the point of indecipherability.
As much as the loss of Hood's charm and drawl hurt, the absence of his tunes hurt even more. For some reason, other than a version of Neil Young's "Rockin' in the Free World" dedicated to the Obamas, Cooley sang only songs from his own songbook, and despite playing in front of the most sympathetic audience he'll ever get, didn't even bother taking a stab at any of Hood's compositions.
So there was no "Let There Be Rock," Hood's autobiographical and transcendent tribute to the power of rock-and-roll. It's also the Truckers' manifesto, and any show without the song ain't as good as any show with it, and even a trainwreck version would have made the set worth remembering.
The night ended too late but strong, with Cooley shrieking through "Shut Up and Get on the Plane." A song from the Truckers' 2001 opus, "Southern Rock Opera," it's about the futility of fighting destiny and is based on the 1977 crash of Lynyrd Skynyrd. Skynyrd still tours, though with only one guy who actually played on "Freebird" in the lineup, and even he doesn't play every show. Again, the show must go on.
-- DAVE MCKENNA
By J. Freedom du Lac | February 22, 2009; 1:57 PM ET Live Last Night
Previous: Live Last Night: M. Ward | Next: What It Feels Like To Be A Rock Star In Canada (But Not In The United States)
Comments
Please email us to report offensive comments.
Posted by: Tojo1 | February 25, 2009 3:56 PM
Posted by: flynnb | February 27, 2009 12:39 PM
The comments to this entry are closed.