The Morning Mix: Zappa Busting Loose in Baltimore; 'Behind the Music' Out of Rehab; WALEDANCING on Ice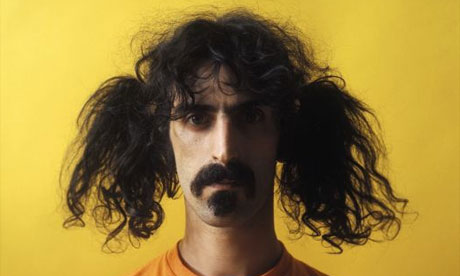 Headlines: Plans for Frank Zappa to make a posthumous return to his hometown are a bust. Or something like that. B'More's public art commission has approved a plan to erect a bust of Zappa in the Fells Point neighborhood... Like the very artists it always features, "Behind the Music" is hoping to mount a triumphant comeback. VH1 is reviving the totally awesome if totally formulaic and melodramatic show about pop and rock stars who go big, then flame out before rising up, Lazarus-like. The network has already locked up Scott Weiland and weird but never-flamed-out Lil Wayne for the revival, though one wag worries that there might be a shortage of viable candidates among the current crop of stars, writing: "Would we really want to see an episode about Coldplay ('I'll never forget the time Chris almost overdosed on green tea...')?" ... Wale (hearts) hockey, even if one of the first tweets from his first-ever Caps game noted: "im the only black person here." The about-to-blow-up DC/PGC rapper is particularly fond of No. 8, telling the Sports Bog: "Wale Ovechkin's my alias." ... Animal Collective, box set, charity auction. Get your bids in, and then burn me a copy, please. ... Big Boi has a new album for us to hear, whenever Jive Records gets around to releasing the damn thing. Then comes a solo A3K album. Then another Outkast album. ... Tickemaster claims a $1.07B loss in the last quarter of 2008; convenience-fee critics do the schadenfreude shuffle. ... The Beatles catalogue might be made available digitally. What year is this again? ... Kings of Leon + Elvis Costello + the Zutons + Neil Diamond = the new Jonas Brothers sound? ... Rick Ross has made an amazing new album, according to Rick Ross. ... Jessica Simpson screwed up onstage. Again. ... U2's 360° Tour stage is being previewed online using 3D animation. ... A federal jury in Hawaii tells South Korean pop star Rain to, well, make it rain, ordering the singer to pay a promoter $8M in damages for canceling a 2007 concert. ... Fred Durst hasn't gone away, is still talking about Britney Spears.
Say What?
"I've always had this idea that people really want to hear every deep thought that crosses my mind." -- Wilco's Jeff Tweedy, on his willingness to discuss anxiety and his addition to painkillers.
Cover of the Day
The brilliant R&B belter Bettye LaVette takes on "Heart of Gold."
Video of the Day
In which D.C.'s Tabi Bonney rhymes about "Rich Kids" and displays some of the best diction in 2009 hip-hop.

Tech Tip of the Day
Was IMing with Chip Porter about "\m/ A Guide to Sonar's 'A Weekend of Metal' \m/," which he'd posted on sister-cousin blog Express Night Out, when we made a momentous discovery: When you type \m/ into Google Talk, it's automatically converted into a proper devil-horns graphic. This knowledge will change your life.
Today in Weekend
Album reviews: Glenn Tilbrook & the Fluffers (Saturday at the State Theatre); Booka Shade (Wednesday at the 9:30 club); Neil Halstead (Wednesday at the Talking Head Club @ Sonar); Glasvegas with Ida Maria (Thursday at the Black Cat).
Bonus Video of the Day
In which ... well, I really can't explain it. Just know that Snuggies and Auto-Tune are involved.

Subscribe to Post Rock's RSS feed. Or follow us on Twitter. Email us at postrock(at)wpost(dot)com.

By J. Freedom du Lac | March 20, 2009; 8:28 AM ET Morning Mix
Previous: SXSW Thursday Wrap-Up: Austin, We Have a Problem. Specifically, With Other Bands. ['WAVVES SUXX'!] | Next: Live Last Night: The Ting Tings
Comments
Please email us to report offensive comments.
Posted by: MikeLicht | March 24, 2009 2:27 PM
The comments to this entry are closed.