The Morning Mix: Bob Dylan's Neighbors Raise a Stink; Philly Band Pays to Be Heard; Bob Marley's New Deal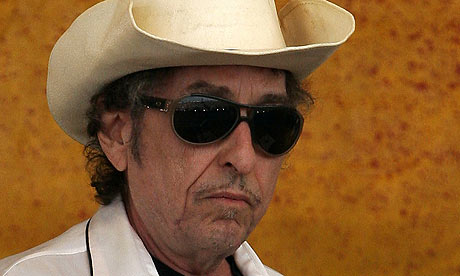 Headlines: Bob Dylan's Malibu neighbors aren't happy with the craggy rock icon's outhouse and have more or less taken to quoting "John Brown" lyrics. You know, how they "couldn't help but think, through the thunder rolling and stink"? The awesome L.A. Times lead: "How sweet is life when you live next to a celebrity in Malibu? Outside Bob Dylan's house, the answer, my friend, is blowin' in the wind." (Too bad I couldn't fit "I Shall Be Relieved" into the headline box.) ... Dylan, Willie Nelson, the Dead, Nas, the Hold Steady, Femi Kuti, Girl Talk and Cold War Kids are among the acts confirmed for Rothbury, a newish music festival in Michigan. ... Officer Roseland, a Philadelphia rock band, is offering to pay a dollar to each person who downloads its new album, "Stimulus Package." ... The Breeders are doing a Bob Marley cover for their upcoming EP on which the Deal sisters are also collaborating with Mark Lanegan. (Though not on the Marley tune.) ... Gucci Mane, the next big thing in Southern rap, is back in the studio now that he's out of jail. ... RIP BMG Music Service, the 12 CDs-for-the-price-of-one providers. ... Trent Reznor is not a fan of ticket-scalping. ... DJ AM suing to change his name to DJ $20M. ... Lawsuits concerning a Tupac Shakur biopic are proliferating. ... Elvis Presley's sky-blue jumpsuit is yours for a minimum bid of $100,000.
Say What?
"It's fine to talk about love publicly, but I think when you talk about virginity and sex publicly, people just automatically picture you naked. And as much as I can prevent people picturing me naked, I'm going to." -- Taylor Swift, talking about not talking about sex in Allure.

Video of the Day
The No. 1 single 15 years ago today...

Interview Exchange of the Day
From a Q&A with Bob Dylan (yes, him again) about his forthcoming album, "Together Through Life."
Q: Do relatives come up to you at cookouts and ask when you're going to write a song for them?
A:: Oh yeah, one of my uncles' wives used to pester me all the time, "Bobby, when are you gonna write a song about me ... put me on the radio?" It would make me uncomfortable.
Q: How would you get out of it?
A: I'd say, "I already did Auntie. You're just not listening to the right stations."
Today in Style
Estelle rocks (and raps and R&Bs and reggaes, etc.) the house at the 9:30 club. Sufjan meets Outkast, Jack White meets a drum kit and more in Singles File. Plus: "It's Blitz!" by the Yeah Yeah Yeahs and Quick Spin reviews of "Don't Feed Da Animals" by Gorilla Zoe and "Tell 'Em What Your Name Is!" by Black Joe Lewis. Also, a St. Patrick's Day special (from Saturday's Style section): Maryland Gov. Martin O'Malley's band is reviewed.

Subscribe to Post Rock's RSS feed. Or follow us on Twitter.
Email links/tips/questions/complaints/restaurant suggestions to postrock(at)wpost(dot)com.
By J. Freedom du Lac | March 17, 2009; 8:18 AM ET Morning Mix
Previous: Album Review: Bonnie 'Prince' Billy, 'Beware' | Next: Live Last Night: Wynton Marsalis and the Jazz at Lincoln Center Orchestra
Comments
Please email us to report offensive comments.
The comments to this entry are closed.