Stanley Mouse Talks Grateful Dead, Zig-Zags, Hot Rods, Hippies and What Journey Took From Jimi
Stanley Mouse and Alton Kelley were something like the Grateful Dead of rock-and-roll graphic designers. Just as the Dead's spacey jams anchored the soundtrack for the psychedelic 1960s San Francisco scene, Mouse and Kelley's trippy work as in-house poster artists for the Avalon Ballroom (and, later, as album-cover designers) helped define the era's visual aesthetic.
Fitting, then, that the best-known Mouse/Kelley design became synonymous with the Dead: A skeleton-and-roses motif that first appeared on a 1966 promotional poster and was later reprised for the cover of the Dead's eponymous 1971 live double-LP. That album is often referred to as, simply, "Skull and Roses."
Kelley died last year, but the long, strange trip continues for Mouse, whose Dead-centric exhibition, "Grateful Life," opens Monday at Govinda Gallery. That's just in time for the Deadhead invasion in D.C., as the surviving members of the Dead will perform Tuesday at Verizon Center.
Mouse got on the phone with Post Rock earlier this week to discuss the skull and roses poster and some of his other famous (and not-so-famous) work. The artist, who was raised in Detroit and first earned notice for his airbush T-shirts on the hot rod scene, lives in Sebastopol now, 55 miles north of San Francisco, where he's concentrating on ... figurative oil paintings. Far out.
******
Mouse on Skull and Roses, the Dead and the night the cops came to investigate Janis Joplin's singing:
My history with the Grateful Dead goes far back. They were playing at the Avalon Ballroom, and nobody really knew about them. But they had a great name. I'd always loved painting skulls and stuff, because I came out of the hot rod art world. I liked their name, which propagated a lot of imagery in my head.
Kelley and I had a job doing posters for the Avalon, and the promoter said: "Do a poster for the Grateful Dead." So we went to the library in San Francisco, just searching through old books. We came across the "Rubaiyat of Omar Khayyam," and in it was an old illustration that had that skull and roses character on it. We went: "Whoa, look at that! That has Grateful Dead written all over it." So we used it on that poster, which became the famous icon.
I'm most famous for something I didn't even do! All I did to it was color it in. [Laughs.] The popular thing to do in those days was to take a powerful image from the past and build a poster around it. We didn't usually steal anything from a living artist; they were all ancient pictures.
(Continued after the jump.)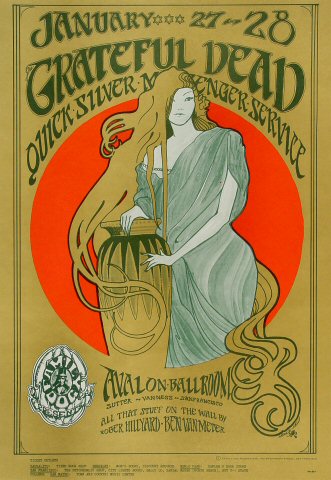 One of the beautiful things about the posters is that we had free reign. We were our own art directors. We could do anything we want. Even with the Grateful Dead in the beginning. As time went on, they got more lawyers and everybody in the organization became an art director. Everything got stifled and the designs became less and less creative. It ended up like car from Detroit, designed by committee.
But 1966-1967 was just a very exciting time. I remember my girlfriend saying: "Let's get out of here, let's move to the hills, you can always do paintings there." But I'm sitting sitting there doing posters, and it was just like: "This is way too important. [Laughs.] At that time, we knew history was being made with that whole Haight Ashbury scene, and we were the visual part of that. We were just riding the wave of what was happening. I was doing a poster every week. There was so much going on. Every day back then was like a whole year. There was no time to think about: "Is this going to be in museums some day?"
I had an old fire house in San Francisco, which I used as my studio, and Big Brother and the Holding Company practiced downstairs. Janis Joplin came to audition for the band, and after she auditioned, the band asked me if liked her. I said, "She's either great or awful." And then that night the police knocked on my door and said they had a report of a woman screaming in there. [Laughs.] And then the Diggers started fixing cars at my studio and they kind of pushed me out. I moved my studio in to one of the Grateful Dead houses. They had just gotten another house on Ashbury, so they had two across from each other. They gave me the upstairs for my studio. I spent a summer living in that house, watching all those shenanigans going on.
******
Mouse on rolling the Zig-Zag man into a poster design
The Zig-Zag man was brewing for a long time. We kept saying: "Should we do the Zig-Zag man or not?" Finally, we decided to do it. We had a good concert for Big Brother, so we did the poster, then we went and cleaned our studio out. We cleaned out any kind of seeds or pot. It was squeaky clean. We almost left town after we did the poster, but nothing happened. The police didn't say anything. Zig-Zag didn't say anything. We thought we were going to get a lawsuit, but we didn't. I read an article that said it was like a million-dollar ad campaign for Zig-Zag. They couldn't advertise to the potheads. But they got a million-dollar campaign for nothing from me and Kelley.
******
Mouse on making magic with Mucha
One of the things that still sits in my mind is that girl with the green hair. It's a Mucha from JOB cigarette papers in Paris at the turn of the century. We took that image I did a poster for a beautiful music group [the Jim Kweskin Jug Band]. It was Indian summer in October. Everything was beautiful in San Francisco. The colors in the poster were really warm and beautiful. I was watching the poster be printed. The printer, which was right behind my studio, collected pump organs. I noticed that the printing press had a great rhythm to it as the posters were coming off the press, so I sat down and started playing pump organ to the rhythm of my posters being printed. It was a warm San Francisco night. And I was psychedelicized, so it was a really beautiful, beautiful evening.
The poster went up all over town. It was on every pole and in every window. And the concert happened, and everybody was all decked out and dressed beautifully in all their costumes, and it looked just like the poster. Like the poster set the whole scene for the dance concert. It was October '66, before the Haight Ashbury nightmare happened and the whole come-to-San Francisco-with-flowers-in-your-hair thing happened. The Haight Ashbury was really happening. People would go to the Avalon Ballroom decked out in Victorian clothes from all the second-hand shops. We all dressed in these wild clothes and carried on. It was quite a scene. And then the press picked up on it and everybody heard about it and all the crazies from everywhere came to San Francisco.
I kind of avoid conversations about the '60s. I don't like talking about the '60s. I'm not sure why -- maybe because it was so overblown or something. But I've been having a lot of museum shows where I speak on a panel and I actually start to get into talking about the '60s.
******
Mouse on designing album-cover art
I just heard something really cool: Vinyl's coming back. They're bringing back vinyl records and the CD is on the way out. What happened with the CD is that rock-and-roll art vanished. It was too small to do any art on. And the art was like half the thing. A lot of people say they bought a lot of the Grateful Dead records because of the art. I hear that all the time: "I really liked the art, and then I bought the record, and I liked the record."
I really liked "Europe '72." That was, to me, kind of life-shaking and cosmic. And I kind of liked the album cover I did for Smokey Robinson; I did "Mickey's Monkey" for him in 1963 in Detroit and I got paid $35 for it. I did it on a pizza box lid. I just talked to Smokey's manager, and he wanted me to work on his new cover, which was a big circle. "Mickey's Monkey" was kind of a funny one. A friend of mine was the art director for Motown -- he was some white guy, and we always talked. I was doing a lot of hot rod stuff, but I also did Christmas cards for a lot of the black disc jockeys; my favorite guy was Frantic Ernie Durham. I was really into the Motown scene. I even had my dad buy me a car when I was 14 so I could just go outside and listen to the black radio stations.
With "Book of Dreams," what happened was, we had a T-shirt company that was kind of failing. We developed a four-color process T-shirt and Bill Graham sent in a spy, found out how to do it and started his own T-shirt company that kind of killed us. Our company was floundering; we thought we'd do this great design of a flying horse and revive our company. We did this monumental painting of the horse from the World's Fair in 1918 in San Francisco. The painting was sitting in the studio and Steve Miller walks in and said he needed an album cover. Kelley and I weren't in there, but somebody was sitting there and said: "Well, what about that?" He said, "It's perfect! My album's called 'Book of Dreams.'" So we sold it to him. And then it won a Grammy. We're watching TV, and it says, "best album cover, 'Book of Dreams,' art director Roy Kohara." [Laughs.] Roy has the trophy and he didn't do anything on it. He had it photographed.
I'd been living in London and Kelley went to do signage in Woodstock. I came back from England to help him on that, and then we stayed in Boston working for a company that didn't know what to do with us. They finally got us a Jimi Hendrix record cover job. We did this really beautiful Art Nouveau scarab beetle, and when we finished it, Jimi dies. So the record never came out. But we had this beautiful design, and we brought it out as a T-shirt. When Journey came along, we took that design a few more steps, and it became that amazing Egyptian beetle. I remember reading this thing about the best and worst of everything. The worst album covers were all Journey covers. [Laughs.] It's funny. But I think they were striking. I still get people saying: "Can you do me a cover like this for my CD?" I tell them it only took two guys working every day for two months with lavish airbrush frisket work to do those things. I don't even want to attempt doing those now.
******
Mouse on his hot-rod past -- and figurative-art present


When did the hot rod scene, I used to airbrush sweatshirts and T-shirts in front of crowds at the shows. My favorite place to go to was the hot rod show in Washington, D.C. I sat there and painted while people were watching me. I always painted out of everybody's heads. Somebody would say something and if it was a good idea, I'd paint it on a shirt immediately.
I was so good at that because I painted thousands and thousands of shirts. The airbrush was so fast, and I was so fast. In D.C., they had the best what I would call art directors. The crowd would stand behind me and always had the best ideas. I always did my best drawings there. I guess that's what Kelley functioned as for me. I always needed that input to draw from. Kelley was so brilliant and had so many ideas and was super-communicative. Washington, D.C., also had the best hot rods for some reason. Washington, D.C., and Philadelphia had the coolest cars -- better even than L.A. People still always ask if I have any hot rod stuff, which tickles me.
I'm doing oil paintings now, mostly figurative. I always went to the art museums and saw these beautiful paintings of people. I thought that was the highest art and always wanted to do it. Now, I'm reaching that -- and nobody cares. All they want to see is my flash airbrush work. It's frustrating, because I have thousands of paintings bulging out of my garage. [Laughs.]
I don't know what to do with them. But I think I'm one of the best figurative artists going. I'm really good at it. I had a show last summer with 90 of my figurative pieces. I sold a couple of them for $25,000 each.
And I still do some rock designs. The last one was a Doors cover. They found at tape of the Doors at the Matrix in San Francisco in 1967, and I did this really far-out album cover for it. I used another one of those statues from the 1918 San Francisco's World's Fair, like on the horse for Steve Miller.
By J. Freedom du Lac | April 10, 2009; 10:09 AM ET Covers , Hippies , Interviews , Posters
Previous: Kanye West Checks Ego Following 'South Park' Slaughter; Bill O'Reilly Hip-Hoppin' Mad (Again) | Next: Bajofondo: Live Last Night
Comments
Please email us to report offensive comments.
Posted by: mediciosso | April 12, 2009 9:10 AM
The comments to this entry are closed.