Someone Saved Eminem's Life Tonight; Fiddy to Be the Wind Beneath the Divine Miss M's Wings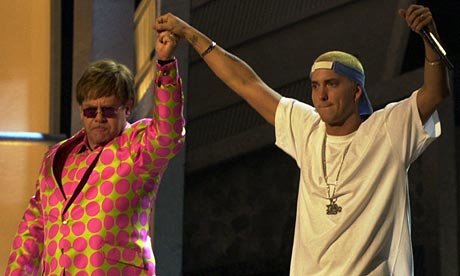 Headlines: The noted hip-hop homophobe Eminem says Elton John helped him kick his painkiller addiction. "I reached out to him and told him, 'Look, I'm going through a problem and I need your advice.'" Also says they've become BFFs or something: "I talk to Elton a lot." ... Bette Middler is collaborating with 50 Cent? Really? "Little Jewish lady and the great big rapper," she says. "He's such a doll. I love him. He's gorgeous." ... Don't worry, Malitz; nascent indie vlogger Brian Williams isn't coming for you! "No one should fear me becoming a tragic hipster," the NBC news anchor says. ... One person who won't be reading BriTunes -- or, for that matter, This Very Post? Peter Buck, who says: "My use of the Internet is so minimal. For instance I've never read a blog." ... Ask not what Paste can do for you, but what you can do for Paste. The music mag is soliciting reader donations to help offset advertising losses. ... Somebody has stolen Maximo Park guitarist Duncan Lloyd's prized Gretsch Country Gentleman, which was once played by the great Joe Strummer. ...Country blogger writes about husband's guitar-buying spree; reader accurately diagnoses the man with Gear Acquisition Syndrome. (Disclosure: GAS was first discovered by doctors trying to figure out what was [and still is] wrong with TWP music contributor and gearhead Dave McKenna.) ... The Jonas Brothers are postponing a couple of concerts in Monterrey, Mexico, because they still haven't learned como se dice "purity ring" en espanol. Just kidding. It's because of swine flu. ... In other H1N1 news, last season's "American Idol" winner, David Cook, and his moppet runner-up, David Archuleta, are being hounded by Philippine health authorities ahead of an open-air concert in the country tomorrow. ... Who is Martin Scoresese going to cast to play the titular lead in "Sinatra"? The early money is on Leo DiCaprio. ... Roughly 0.25 percent of tweeters were talking about Wilco at the peak of the "Wilco (the Album)" leak buzz. "This is huge, even if the percentage looks tiny," Twitscoop's Pierre Stalislav says. ... Raekwon isn't mad at Dr. Dre's worth ethic. "A lot of dudes have said that he's been very difficult to catch because he got so much work. And when you think of a $300-400 million [dude], you gotta respect that that's how it be sometimes." ... Damn, it doesn't feel good to be a gangsta. At least not if you're Willie D. The Geto Boys principal has been arrested by the FBI and charged with wire fraud in connection with a scheme to bilk electronics buyers out of their money.
***
Video of the Day
In which Green Day, whose "21st Century Breakdown" comes out today, was just a bratty band from the S.F-East Bay Area.

Today in TWP
Green Day Delivers Another Rock Opera Most Righteous
'Anvil': Almost Famous. Really.
Weekend's album reviews: Mike Stern Band (through Sunday at Blues Alley); Dan Deacon (Sunday at the 9:30 club); Jill Sobule (Sunday at Iota).
***
Follow us on Twitter. Subscribe to Post Rock's RSS feed. Email: postrock(at)wpost(dot)com.
By J. Freedom du Lac | May 15, 2009; 7:28 AM ET Morning Mix
Previous: The Electricity of Springsteen | Next: Hey, A Reader Compared Me to Obama!*
Comments
Please email us to report offensive comments.
The comments to this entry are closed.