Eminem 'Enraged' About Becoming the Butt of Bruno's Joke; Was Jimi Hendrix Murdered?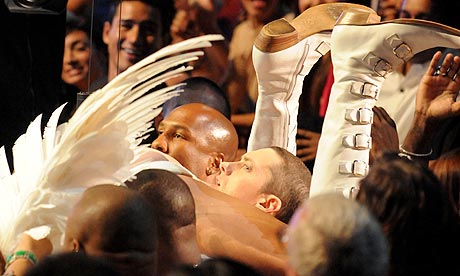 Headlines: Sascha Baron Cohen knows from publicity stunts. Eminem, who loves to dish it out, may not know how to take it. (Or maybe he was in on the joke all along?) Anyway, showing up to present an award the MTV Music Awards as Brüno, his flamboyantly gay Austrian alter ego, Cohen, according to the MTV account, "descended via wires from the rafters dressed as some sort of S&M angel -- if an angel would be wearing oversized wings, a white gladiator's costume and a jockstrap -- and introduced himself in German, 'Ich bin Brüno.' He then appeared to get caught up in his suspension wires, flipping upside down and writhing in apparent pain before asking to be lowered to the floor. His request was quickly granted and he crashed to the ground -- upside-down and directly on top of Eminem, wrapping his legs around the rapper's head, exposing his bare buttocks within inches of Em's face." The rapper, who'd previously performed a couple of "Relapse" songs, wasn't pleased with being served a teabag, saying: "Are you serious?" He swore and told his bodyguards get Cohen Brüno off of him. Eventually, Eminem left his seat, prompting Cohen Brüno to ask: "Is the real Slim Shady about to stand up?" ... I'm pretty sure that Malitz has a crush on Brian Williams. ... After losing out in the "Britain's Got Talent" contest, global sensation Susan Boyle was taken to a private clinic, reportedly having suffered an "emotional breakdown." Nicely done, evil British tabs. Nice. Ly. Done. ... Live Nation is eliminating service fees for lawn seats at its summer amphitheater shows on Wednesday. You still have to pay the fees if you want reserved seats, or if you buy lawn seats today, Tuesday, Thursday, Friday, Saturday or Sunday. ... Jimi Hendrix was murdered by his manager, according to a former roadie who, of course, has written a book. In "Rock Roadie," Tappy Wright claims that Hendrix's manager drunkenly confessed to stuffing pills into the rock icon's mouth and washing them down with several bottles of red wine because he thought he was going to be fired in favor of a new manager. He'd also taken out a life insurance policy on Hendrix. The manager, Michael Jeffrey, died in a plane crash a few years after Hendrix's death. ... Wavves has crashed. Then apologized. ... Ozzy Osbourne (Sharon?) wants the Black Sabbath name back, and so he (Sharon?) has sued Tony Iommi in federal court. ... Rise Against is taking on the American military over its treatment of soldiers in a new song, "Hero Of War." Based on a true story, says singer Tim McIlrath, who says the song "is our attempt to lift the stigma that surrounds everything from the skyrocketing suicide rate of troops, torture, internal sexual abuse, an under-funded VA, and the growing number of military personnel fighting Post Traumatic Stress Disorder as they return home. We hope this song and this video help the simmering dialogue about these problems evolve into a rolling boil." ... Surely you know this already, but just in case: Phil Spector was sentenced on Friday to 19 years to life.
By J. Freedom du Lac | June 1, 2009; 7:58 AM ET Morning Mix
Previous: Kurt Vile, Primavera Festival, Benjy Ferree: Friday Time Wasters | Next: Merriweather Post: Now w/21% More Distractions
Comments
Please email us to report offensive comments.
Posted by: WashingtonDame | June 1, 2009 7:15 PM
The comments to this entry are closed.