Panic, Drugs and Leaked Photos; Mariah Takes on Eminem, Probably; Farms Continue to Be Aided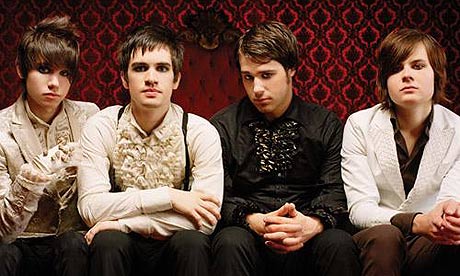 Headlines: Drugs, feuds and denials in the news. That Panic at the Disco split last week may have been as much narcotic as creative differences. A photo of guitarist/songwriter Ryan Ross has been making the rounds, and it's sort of a rock-and-roll still life: rock star, young women, bowl of cocaine. Ross claims he didn't even know the drugs were there. No really, he swears, he didn't know. I mean, technically he knew the cocaine was there, but he certainly wasn't doing any. And he definitely didn't mean to be photographed with it. Well, his story checks out well enough for me. Is Mariah Carey's new song (and video) directed at Eminem? It sure seems that way. It would be a response to Em's "Bagpipes from Baghdad," in which he besmirched Carey's good name, which is just so out of character for Eminem. I like wrestling analogies (more than actual wrestling) so for this feud how about ... Hulk Hogan vs. The Undertaker. Except, like, way after anyone still cared about them.
In money-raising news, Farm Aid will hit St. Louis on Oct. 4. The usual suspects will be there: Neil Young, Dave Matthews, John Mellencamp and Willie Nelson. Plenty more acts will be added to the bill; last year's performers included Kenny Chesney, the Pretenders, Steve Earle and Jamey Johnson. It looks like music magazine Paste may have actually saved itself with its "Save Paste" campaign. The hey-we-kinda-like-everything mag took in more than $250,000 from more than 10,000 donors over the past couple months and is in now talks with investors who might help with future stability. Sometimes the simplest idea is the best one -- just flat out asking for cash.
In self-indulgent weekend preview news ... "Our Noise: The Story of Merge Records" will hit bookshelves on Sept. 15. The accompanying Web site is a very fun and interactive trip down memory lane. Flagship band Superchunk will be playing a free show tonight at Pier 17 at New York's South Street Seaport as a warmup for next week's Merge XX. See you there! Post Rock fave Kurt Vile's Matador debut, "Childish Prodigy," is officially slated for an Oct. 6 release. Take a listen to that new MP3, "Overnight Religion." Let it seep in and do its thing. He kicks off a tour tonight in Brooklyn, playing with mind-benders Blues Control. Should be massive. The forecast doesn't look too promising for Saturday's Siren Festival but I'm holding out hope. Lots of fine bands on the bill, including Grand Duchy, who was interviewed on here yesterday and played at the Black Cat last night. It was odd to see Black Francis serving almost as a sideman, but it worked. There were a handful of howling rockers, but for the most part I'd describe the band as "the Dandy Warhols if they were actually any good." Also playing at Siren will be another Post Rock fave Future of the Left; Rob Harvilla's Village Voice feature is an excellent read, but then again, any time you get lots of quotes from Andy Falkous that's going to be the case. I should be adding to my collection tomorrow. And the band plays at DC9 on Sunday night, don't forget.
Late Night Tweets couldn't have been more different but, in an odd way, more similar last night. You had Daughtry on "Conan" and Grizzly Bear on "Letterman." To quote one of the worst bands in the history of recorded music, both bands were selling the drama, with Daughtry going for everyman grunge-lite and Grizzly Bear going for cerebral chamber pop.
Grizzly Bear/Letterman: It just all seems so heavy-handed in an attempt to be moving, more than anything else.
Daughtry/Conan: Such dogged devotion to the most basic of formulas, almost have to admire it. Daughtry = Snow Patrol with goatees.
Video of the Day: Tabi Bonney - "Jet Setter"

The latest from the DMV's second most-on-the-verge rap star.
By David Malitz | July 17, 2009; 6:47 AM ET Morning Mix
Previous: Robert Cray: What It Feels Like ... To Have Your Own Signature Guitar | Next: Their Goal In Life Is To Be An Echo
Comments
Please email us to report offensive comments.
The comments to this entry are closed.