The Stars Will Be Out For MJ; Panic in Panic at the Disco Land; Please Come to America, Blur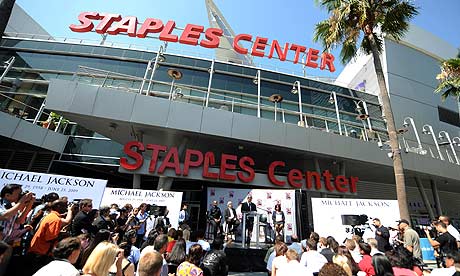 Headlines: You will not be able to escape the Michael Jackson funeral today, so don't even try. It will be nothing short of an extravaganza, which should serve as a fitting farewell to the King of Pop. The ceremonies at Staples Center will be broadcast on every major network. Expect plenty of star power: Usher, Stevie Wonder, John Mayer and Mariah Carey are among those who are confirmed to appear. Carey is set to perform the Jackson 5 hit "I'll Be There." It sounds kind of morbid to say that we'll be live Tweeting a funeral, but that's exactly what will be going on over at Celebritology. This story will be all-consuming in just a few hours, so let's move onto other realms, if only briefly...
Steven Tyler can't live it up if he's falling down, hence the cancellation of three recent Aerosmith shows. The frontman for the veteran hard rockers is suffering from an undisclosed injury, but it could be something as simple as a pulled leg muscle. The band is scheduled to be back on stage tonight in North Carolina. Did the tween in your life seem a little moodier than usual yesterday? If so, it's probably due to the departure of Ryan Ross and Jon Walker from Panic at the Disco. Ross was the band's guitarist and principal songwriter, so this is no small thing. He was the driving force behind the band's shift from standard mall-punk-emo to the Beatles-esque sound of last year's "Pretty. Odd." Frontman Brandon Urie and drummer Spencer Smith will keep the PATD moniker and continue on; we'll see how that goes. Part of that continuing on will be opening for Blink-182 this summer and if you want to catch that show (anywhere but D.C., that is) you can get a cheap ticket and a free hot dog thanks to Live Nation's latest promotion. All day tomorrow you can get a lawn ticket, parking, all fees, a hot dog and a soda for $29.99 for most Live Nation produced shows.
The American Idols Live tour kicked off and USA Today has the set list. Uh, spoiler alert, I guess? Adam Lambert's selections include "Starlight" by Muse and a David Bowie medley. Green Day's blockbuster summer tour started in Seattle and finds the band getting more comfortable with the whole arena rock thing. Thankfully, "She" remains in the setlist. Now there's a jam we can all get behind, right? Always loved when WHFS broke that one out instead of "Basket Case" or "When I Come Around." The Blur reunion is one of the few that I would happily pony up some dollars for, and the field reports continue to be excellent. The setlist for the recent Hyde Park show reads like a greatest hits double-disc: "She's So High," "Girls & Boys," "Tracy Jacks," "There's No Other Way" ... and that was just the first four songs! I want to go to there.
And for some random news ... Mastodon brewed its own branded beer while in Germany. An Elliott Smith superfan bought the late singer-songwriter's old Passat. Jack White is starting some sort of subscription service on his Web site. Hey, if Billy Corgan did it (didn't he try?) everyone would call him a greedy [expletive], right? Just sayin'. And our very own Boggin', Olbermann-feuding Dan Steinberg reports that Brit-poppers Keane are ... Washington Nati(o)nals fans? Really? Huh.
Video of the Day, I: Leighton Meester - "Body Control"

OK, it's not an actual video, just a leaked track with a picture of Leighton. Look, you're going to be watching a funeral all day. There are worse ways to spend three minutes this morning -- or any morning, afternoon or evening -- than staring at a picture of Leighton Meester, trust me. Unfortunately, one of those ways is to actually listen to the "Gossip Girl" star's foray into club-pop. Yikes.
Video of the Day II: Foo Fighters - "Wheels"

This new Foo Fighters song -- debuted at a Fourth of July party at the White House that you were definitely not important enough to be invited to -- will be one of two new tracks that should appear on some sort of greatest hits album out in November. Just in time for you to buy it for that random dude you know nothing about but got stuck with for Secret Santa! I like the Foo Fighters. I do not like this song. Wish us better luck tomorrow with the videos!
By David Malitz | July 7, 2009; 7:26 AM ET Morning Mix
Previous: Discographically Speaking: Sonic Youth | Next: Sonic Youth: Live Last Night
Comments
Please email us to report offensive comments.
Posted by: Hemisphire | July 7, 2009 10:27 AM
Posted by: fellstus | July 7, 2009 2:38 PM
The comments to this entry are closed.