The xx: Live last night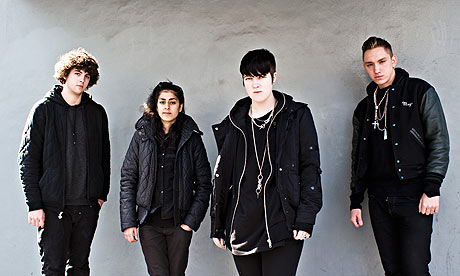 The xx -- now a trio -- stayed at their own pace at DC9.
By David Malitz
The xx must be commended for a dogged devotion to aesthetic. The babyfaced, buzzed-about British trio (its members can drink legally back home but not in the U.S.) never strayed from its slow tempos and sensual sounds over the course of nearly an hour at a sold-out DC9 Sunday night. Most bands so young rely on the old-standbys of energy, bravado and attitude in a live setting. The xx, on the other hand, was a perfect picture of restraint. It may not have made for the most thoroughly engaging performance but that's almost the point -- the band plays perfect mood music, not necessarily meant to be the listener's main focus, but instead ideal background fare.

(DC9 = make out club, after the jump.)
Ideal, apparently, for making out if the DC9 crowd was any indication. Even the most stringent PDA haters would find it hard to hate on the couples giving in on Sunday. Romy Madley Croft (she also played guitar) and Oliver Sim (bass) traded verses on nearly every song, both standing perfectly still, sporting steely-eyed gazes and favoring a vocal style that was as much cooing and heavy breathing as singing. The sexual tension this added to standouts "Crystalized" and "Stars" was enhanced by the fact that none of the songs reached a classic climax featuring a big chorus of volume swell.
Madley Croft rarely played more than one note at a time, always swimming in reverb, while Sim carried the low end with a simple bass line, recalling the likes of the Jesus and Mary Chain and New Order but with far less clutter. Third member Jamie Smith manned a drumpad at the back of the stage (not that anyone who wasn't in the first few rows could see anything without glancing at a projection screen hanging on the wall). The simple, chilly beats he triggered and the occasional harmonies by Madley Croft and Sim were much more subtle payoffs than a burst of noise, but no less rewarding.
By David Malitz | November 16, 2009; 3:29 PM ET Live Last Night
Previous: Goodie Mob: Live last night | Next: Is Dave Grohl the best rock drummer alive?
Comments
Please email us to report offensive comments.
The comments to this entry are closed.