Opera on the big screen
In today's Washington Post: Domingo goes baritone with Boccanegra, by Anne Midgette.
I really enjoyed the HD broadcast of the Met's "Simon Boccanegra," and I hadn't necessarily expected to. I adore the opera, and I thought that the tenor range of Domingo's voice -- which has a strong tenor cast, for all of the much-vaunted darkness of his sound -- would be distracting in the role. I know many people did find it so; but, as I said in the review linked above, I thought he was able to use it for dramatic effect while doing a really credible job in the lower reaches of the part. Domingo is also a credit to opera acting: that is, what he does isn't naturalistic, or even as vocally expressive as some greats of the past, but it is honest and committed so that quite a bit comes through despite slightly stock gestures. The last two times I've heard him sing -- at the Met gala and at this Boccanegra -- have been among the best things I've ever heard him do.
Meanwhile, the movie-theater setting casts opera in movie-star mode. I found myself musing on the resemblances between the opera singers and various pop-culture figures.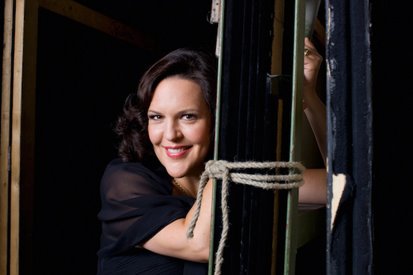 (read more after the jump)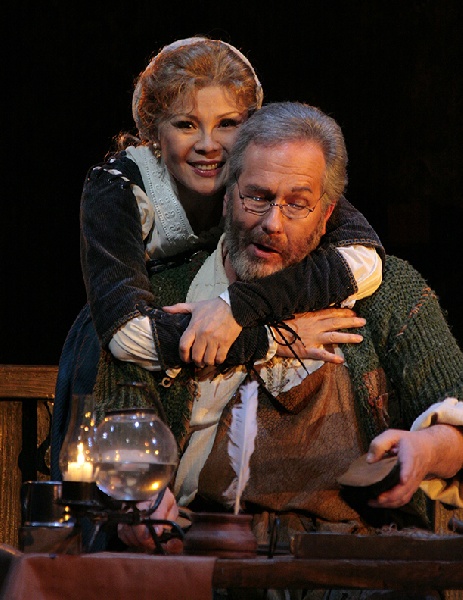 By Anne Midgette | February 8, 2010; 6:03 AM ET
Categories: opera , random musings
Save & Share:
Previous: Friday headlines
Next: Met "Carmen," at last
Posted by: mitrich | February 8, 2010 10:18 AM | Report abuse
Posted by: ScottRose | February 8, 2010 1:40 PM | Report abuse
The comments to this entry are closed.