BSO: seeking Levine, or successor?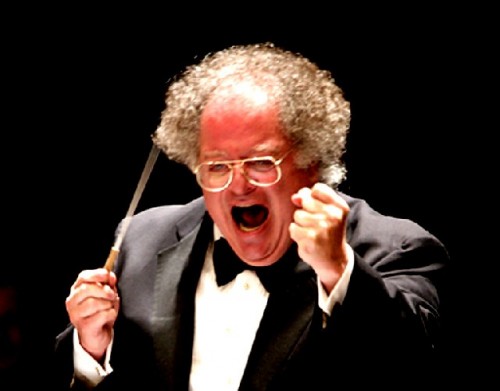 James Levine isn't someone who acts quickly. I remember interviewing him nearly a decade ago for an article, and holding off on writing the article (at my editor's request) to wait for the announcement that he would be taking over the Boston Symphony Orchestra. The writing was on the wall that he was about to leave the Munich Philharmonic, but that writing was embargoed. He did, of course, end up going to Boston; but the announcement was made so many months later that the article never ran.
Nor does Levine talk openly: he's a master of communicating while withholding information. The main subject of curiosity, even ten years ago, is his health (I remember him answering, "I'm fine, thank you!" to my somewhat awkwardly phrased question on the topic). Health problems have certainly compromised his work in the years since. He's suffered a fall, had surgeries for cancer and back problems. In my opinion, though, the nadir came around 2004, right before he took over the BSO, when he was conducting slumped in his chair, barely moving, and nobody could explain what was the matter. I heard him give one of the worst performances of my experience with the Met Orchestra at Carnegie Hall, which should have been a treat.
That period marked some kind of nadir; he's certainly rebounded since then to give readings with a lot more energy and verve. And he's done quite a bit at the BSO; the orchestra, by many accounts, is sounding much better after five years of Levine than it did in the last, weak years of Seiji Ozawa. To my mind, Levine's surgeries seem less dire than whatever it was that caused 2004's awful performances; but they've also meant he's had to cancel large swathes of performances, both at the Met and in Boston. At the Met, he's a fixture; but in Boston, where guest conductors are now leading the orchestra at Tanglewood this summer, there's a feeling that they haven't quite gotten the best of what he has to offer. Yesterday, an editorial in the Boston Globe called for him to consider resigning if he can't recover his strength soon.
Levine takes a while to make up his mind; the question is whether the BSO is going to make up his mind for him. Inevitably, there's speculation about a successor, bringing back names that have been bandied about in the last few Big 5 orchestral searches: Vasily Petrenko (the obligatory young European), Michael Tilson Thomas (the obligatory American, who was once passed over at Tanglewood). Norman Lebrecht, on his blog Slipped Disc, offers another hypothesis in the form of an obligatory big-name European, Riccardo Chailly, currently of the Gewandhaus, formerly of the Concertgebouw, who has never held a music director position with an American orchestra.
What are your thoughts on Levine's BSO tenure? And how do you think Chailly would do as a replacement? Or who would you rather see in the job?
By Anne Midgette | July 19, 2010; 12:00 PM ET
Categories: national , news
Save & Share:
Previous: In performance: Tchaikovsky at Strathmore
Next: In performance: Latin Days at Wolf Trap
Posted by: LisaHirsch1 | July 19, 2010 12:55 PM | Report abuse
Posted by: jemery1 | July 19, 2010 3:26 PM | Report abuse
Posted by: kashe | July 20, 2010 9:06 AM | Report abuse
Posted by: Charles_D | July 20, 2010 11:33 AM | Report abuse
Posted by: Anne Midgette | July 20, 2010 12:31 PM | Report abuse
Posted by: cicciofrancolando | July 20, 2010 5:10 PM | Report abuse
Posted by: Zurga | July 23, 2010 11:51 AM | Report abuse
The comments to this entry are closed.