Spinning (Yarn) With The Pearl
The best part of the Washington Wizards' long delay in retiring Earl Monroe's number was that it allowed a new generation of basketball fans - myself included - to put his career in proper perspective.
I won't front. I'm way too young to have seen the man play. I was still in pre-school when he retired from basketball in 1980. I knew he was one of the 50 Greatest. I was always familiar with "Earl The Pearl." Some names have a certain staying power, some legends have a way of expanding through the years. I find it amusing that his given first name is Vernon. Can you imagine what his nickname would've been then? Burnin'? Turnin'? Money Earnin'?
I've seen highlights of him. But from listening to people who had the opportunity to watch him or play with and against him, you realize that grainy video footage doesn't do the man justice. Wil Haygood's story in the Style section last week made that obvious for me. Monroe moved somewhat awkwardly, with stutter steps and hesitations, and made inexplicable, improvised moves that even he couldn't break down without going back and watching the film.
The first time I really gained an appreciation of the man was when I watched Spike Lee's movie, "He Got Game," when Jake Shuttlesworth (Denzel Washington's character) explained to his son (played by Ray Allen) why he named him, "Jesus." It was a poignant moment that really brought the film together for me, because before then, I thought the name Jesus Shuttlesworth was just ridiculous.
But the Wizards went through the long overdue process of retiring Monroe's jersey last night, making him the 11th player to have his jersey retired by two teams, and I got the opportunity to sit down with the man for a few minutes before the game. I hated that there were time constraints - I had some crazy deadlines that night but you don't care - because the man had so much yard to spin.
I wasn't able to get into everything we talked about in an 18-inch article, but there were some interesting stories he shared that I felt shouldn't be buried in my notebook. I'll leave you a few:
Monroe didn't start playing basketball until he was 14 and didn't make the varsity team at Bartram High in Philadelphia until he was a junior.
Monroe told me that he was drawn to baseball and soccer growing up, and it took him awhile before he felt comfortable on the court. He said when he started, he was about 6-foot-3, 160 pounds and had limited coordination.
"I would go out there and get beat," Monroe said. "Everybody else had been playing awhile. Everybody was beating me."
Monroe said that when he went home to complain to his mother, she handed him a notebook and told him to write down every player he couldn't beat. "My notebook was full," Monroe said, adding that he had about "40 or 50" names on his list. One by one, he scratched them off. He said he felt like the best player in the city when he was able to strike his pencil through the last name.
"George Mack. He played at North Carolina A&T," Monroe said about Mack, who was later drafted by the Philadelphia 76ers. That list "started me off to being who I wound up being."
Monroe thought about entering professional basketball out of high school.
No, he couldn't enter the NBA. But as a senior in high school, Monroe had already become such a stud that people called him "Thomas Edison" because of the moves he would invent on the court. He started letting people know that he planned on playing in the American Basketball League, a short-lived rival to the NBA started by Harlem Globetrotters founder Abe Saperstein. The league, which included a team owned by George Steinbrenner, folded in 1963 before Monroe ever had a chance to play.
"Thank goodness it folded," Monroe said, laughing. "I certainly wasn't ready."
He took a year off to work in a knitting room - not a misprint - before having a storied career at Winston-Salem State College. The Bullets nabbed him with the No. 2 pick in 1967.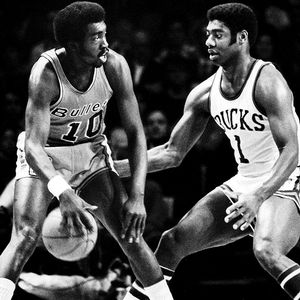 Even as a Knick, Monroe considered himself a Bullet
Monroe had his number retired by the Knicks in 1986, played nine of his 13 seasons in New York and won his lone championship there in 1973. But when he was inducted in the NBA Hall of Fame in 1990, he insisted on being a Bullet. He said most people still remember him as a Bullet, not a Knick. "I guess that's because I scored as many points in four years here as I did in nine years in New York," Monroe said with a laugh. (I went and checked the numbers. Monroe scored 7,775 points as a Bullet, averaging 23.7 points per game. He scored 9,679 as a Knick, averaging 16.2.)
Monroe's exit from the Bullets in 1971 was quite contentious - he wanted more money and considered playing in the ABA for the Indiana Pacers - and he still has some regrets about what could've been. It has been often written how playing for the Knicks and Red Holzman sterilized his free-wheeling, one-on-one artistry. The initial adjustment to playing for the Knicks was difficult, Monroe said.
"Essentially, this was my team and I was going to a team that was Walt Frazier's team," Monroe said. "It was very tough. Especially when the game started getting close. Those times in the game when you were used to taking over - it took me a while to adjust to it. For a guy who was a scorer most of his career, I had to go home and make excuses to my guys at home why I wasn't scoring. In the end, it kind of worked itself out."
When discussing his lone championship season, Monroe then slipped this tidbit of info. "I don't know if I should say this, but when we did beat the Bullets in '73 and we went on to win a championship, it was the fact of us starting to go freelance as opposed to calling plays," Monroe said. "Clyde would freelance and I would freelance and that's really how we beat them."
By Michael Lee | December 2, 2007; 7:59 PM ET

Save & Share:
Previous: Bad ending to long trip
Next: Philadelphia Dethrones King
The comments to this entry are closed.