Gasol's Grizzly Grief
Before Kobe Bryant, Shawn Marion and Andrei Kirilenko made it popular to have your organization completely ignore your public trade demand, there was Pau Gasol.
Gasol is still in Memphis, where he doesn't really want to be so long as the Grizzlies keep losing. But he won't ask for a trade again, because he knows where that got him last year. Nowhere.
Memphis tried to move Gasol near the trade deadline last February, but got greedy in its attempt to raid the Chicago Bulls of nearly every talented piece they had, most notably Luol Deng. A year later, Gasol has his name tossed in trade rumors after almost every Grizzlies loss.
"But I still haven't moved anywhere," Gasol said last Friday at Verizon Center. "It doesn't mean much to me. Obviously, I want to win as much as possible. I want us [Memphis] to do well. I can't fight through all the other stuff that goes on."
Gasol admits that the trade rumors distracted him last season. He said he has blocked it out this season, but he has had to deal with other ailments to his toe and ankle and a sore back that has kept him out of the past two games for Memphis.
"I've been fighting through a few things this year that have not allowed me to play 100 percent all the time," Gasol said. "I'm just trying to keep producing, keep my mind positive, help my team be a better team. That's all I can do."
Gasol is averaging 19.1 points but second-year forward Rudy Gay has taken the reins as the Grizzlies' leading scorer this season. If this keeps up, it would be the first time since the Grizzlies moved to the Memphis that someone other than Gasol led the team in scoring average.
It seems as if the fates of the Gasol and the Grizzlies have taken a precipitous drop since that glorious weekend two years ago in Houston, when he made his lone all-star appearance. At the time, it looked like the first of many for Gasol.
The Grizzlies were also one of the rising young teams, as they went on to finish with the fourth-best record in the Western Conference. Their reward? A first-round meeting with the eventual conference champion Dallas Mavericks in the first round - and the Grizzlies' third consecutive playoff sweep.
"Once you make it, you got the status and you want to be there consistently," Gasol said of his all-star selection. "The injury got me away from it."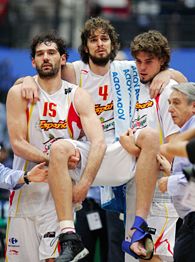 The injury.
Gasol has no regrets about playing for his native Spain in the 2006 world championships in Japan. He won MVP honors, led Spain to the title and guaranteed a spot for his country in the Beijing Olympics this summer. It should have been Gasol's greatest career triumph, but he fractured his left foot prior to the final game, which led to this current hideous ride in Memphis.
He missed the first 22 games last season and when he returned, the Grizzlies' season was already over and Gasol was on the trading block. He was taken off after the trade deadline, but Memphis finished with a league-worst 22 wins and missed out on the chance to select Greg Oden or Kevin Durant when it got the fourth pick in the draft lottery.
Team president Jerry West walked away after the season, leaving the franchise in the hands of new general manager Chris Wallace and first-year coach Marc Iavaroni.
Now the Grizzlies (13-31) seemed destined for another trip to Secaucus, N.J., and the mini-renaissance for the franchise - when it averaged 48 wins a season from 2003-04 to 2005-06 - seems like a distant memory.
"Those losses after losses, they get real heavy," Gasol said. "It seems like it's been a while since we have been successful, with that kind of swagger. Right now, it's tough for everybody. Not one guy. It's tough on the coaching staff and all of the players."
It's probably tougher for Gasol, the one constant in Memphis the past seven seasons.
"Through all my years I've been in this league, I've been through a lot of rebuilding; a lot of top picks; a lot of prospects; good talent; different coaching staffs. I've been with all of them," Gasol, 27, said. "It's been tough because it doesn't allow you to develop fully personally, individually and as a team. I'm at a stage in my career, I wish it could've been more different and more stable, with a more veteran look. We're still trying to figure that out. That's the frustrating part."
Last summer, the Grizzlies drafted Mike Conley Jr., signed Darko Milicic - adding the player Detroit used with the No. 2 pick they gave away for nothing in 2003 - and traded for Juan Carlos Navarro, Gasol's close friend from the Spanish national team.
Milicic still looks lost. Gay and Conley have the potential to be really special. Navarro has been one of the better rookies and has helped make this season a little less miserable but Gasol is running out of patience.
"I expected much more," Gasol said. "I knew it was going to be hard, having a pretty young team, experience wise. A rookie point guard [Conley], a second year small forward [Gay] and Darko is in his first year playing consistent minutes and starting, so that's inexperience right there. That's going to cost you games. A new coach and a new system is going to take time. You put it together, you realize, it's going to be tough. But as a competitor you want to expect more. You want to believe things will go well."
Gasol doesn't even want to speculate on how the situation could improve. "I'm not the [general] manager. I'm not the owner. I'm just a player that tries to make it the best out there," Gasol said. "That's something I can't comment [on] because it's not appropriate."
The hardest part, Gasol said, is that he sort of knows what the other side feels like. "I got that taste and I wanted more," Gasol said. "It wasn't enough for me to have 49, 50 wins and get to the playoffs and get swept. I wanted to go to the playoffs and be successful. That's something that I'm still pursuing. I hope one day I have a chance to redeem myself there. A lot of things I would wish for. Right now I have to focus on my present and that's what we deal with."
The prospect of a turnaround seems unlikely any time soon with the Grizzlies being in the Southwest Division - the toughest division in the NBA - with San Antonio, Dallas, Houston and now, the surprisingly good and young New Orleans Hornets.
Gasol was asked if he could see himself winning in Memphis. "I don't know. I have no idea. I haven't seen it happen," he said. "I live in the present. I don't deal with hypothetical situations."

By Michael Lee | January 28, 2008; 7:00 AM ET

Save & Share:
Previous: Great comeback, tough loss
Next: Kidd Wants Out, What's New?
The comments to this entry are closed.