Wade's Early End Year Too Late
So, the Miami Heat decided to shut down Dwyane Wade. 'Bout a year too late, don't ya think?
It never really should've come to this. Wade should've never been in this position. And no matter what anyone says, the Heat's miserable season is a direct result of Miami not pushing Wade to have season-ending surgery after suffering a dislocated left shoulder in February of last year.
Remember when Wade chose rest over surgery after a collision with Houston's Shane Battier sent his arm popping backward and had Wade carted off, crying, in a wheelchair? That image is hard to forget, especially since Wade - and the Heat - hasn't been the same since.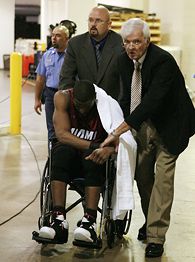 Granted, Wade still averaged 24.6 points, fifth-best in the NBA, and was voted an all-starter. But anyone who watched him play this season knows that he wasn't right. Where he once glided through the court with ease, he labored for everything he got. He didn't have much help, with Shaquille O'Neal hurting and fossilizing and a remaining roster filled with players with questionable NBA credentials.
Wade led the league in turnovers (4.4 per game) and had that sucking-on-lemons, sour face all season.
Wade's shoulder wasn't the problem this season; his left knee has held him back more than anything. Wade had procedures on his knee and shoulder last summer, after the Heat's season ended. Had he gotten both surgeries this time last year, the Heat wouldn't be here right now.
He came back earlier than expected last November, realizing that the Heat wouldn't make the playoffs without him. Now it has been proven that it can't make it with him playing at 75, 80 percent. The Heat was 11-41 with the wobbly Wade in the lineup. With nothing to play for, Wade decided that he shouldn't play hurt anymore.
The day after the O'Neal trade, I asked Wade in Philadelphia if he thinks he should've had season-ending surgery last season, knowing how it all turned out.
"I don't know, man. I made a decision that I thought was best for me at that time," Wade said then. "Everything happens for a reason. I didn't have surgery at that time for a reason."
Wade didn't want to have surgery then because he wanted to help the Heat to defend its NBA championship. It's admirable that Wade played through pain, made sacrifices for the team, blah, blah, blah . . . for another title run. But looking back, it cost the Heat two seasons - they got swept in the first round by Chicago, and they now are poised to have the worst record in franchise history.
It also cost Miami O'Neal - although getting Shawn Marion is exchange is not so shabby - and put the team on the difficult path to rebuilding.
Riley began to distance himself from his terrible team announcing that he planned on attending college games to scout players that Miami might select with its sure-bet high lottery pick. Last week, Wade said he hadn't thought about shutting it down. But he changed his mind with his team smelling like a hot garbage soufflé and his coach already watching the likes of Indiana freshman Eric Gordon in person.
You have to wonder what a season like this can do to his legacy, less than two years after being the NBA Finals MVP. You can blame his injuries, the injuries to O'Neal and Alonzo Mourning, the O'Neal trade, and Riley's offseason blunders in assembling this team (He signed Smush Parker and Penny Hardaway - really? - and neither player is on the roster anymore. He also traded Antoine Walker - not too bad - for Mark Blount and Ricky Davis. At least he has Davis's expiring contract).
But for Wade to be on the court for a team that lost 26 of 27? In the East?
I don't want to pile on Wade, because most of the blame, in my opinion, falls on Riley. He put the pressure on Wade to carry a poorly constructed mix of not-ready-for-primetime players and ready-for-retirement-home players. On a bum wheel, at that.
Still, Wade will have to come back strong, real strong, next season. At least now, he can get some rest - something that should've happened last year.
"If I had a crystal ball and I knew we were going to get swept by Chicago, yeah, we would've done it," Riley said last month. "But that's not what a warrior does. That's not what a champion does. A champion tries to compete. We didn't repeat and it took him a while to heal."
Unless Miami can get Michael Beasley or Derrick Rose this June, it may take the Heat even longer.
By Michael Lee | March 10, 2008; 7:39 PM ET
Previous: Butler feels and looks good in return to practice | Next: Tuesday update
Comments
Please email us to report offensive comments.
Posted by: juandixonformvp | March 11, 2008 12:36 AM
Posted by: kalorama | March 11, 2008 1:18 AM
Posted by: GM | March 11, 2008 8:15 AM
Posted by: Bart | March 11, 2008 8:18 AM
Posted by: Anonymous | March 11, 2008 8:28 AM
Posted by: Anonymous | March 11, 2008 10:19 AM
Posted by: GO MAVS!!!!!!!!!!!!!!!! !!!!! | March 11, 2008 11:10 AM
Posted by: John Brisker | March 11, 2008 12:43 PM
Posted by: DC Man88 | March 11, 2008 1:29 PM
Posted by: DARGREGMAG@AOL.COM | March 11, 2008 1:51 PM
Posted by: Anonymous | March 11, 2008 1:54 PM
Posted by: Thickman | March 11, 2008 2:11 PM
Posted by: DC Man88 | March 11, 2008 2:17 PM
Posted by: Anonymous | March 11, 2008 2:23 PM
Posted by: GM | March 11, 2008 2:38 PM
Posted by: DC Man88 | March 11, 2008 3:50 PM
The comments to this entry are closed.